---
Porsche 356 Tool Kits
[Home] [Complete kits] [Tool bags] [Messko gauge] [Screwdrivers] [Wrenches] [Lug wrench] [Spark plug socket] [Pliers] [Pulley wrench] [Jack] [Miscellaneous [Wanted and For Sale/Trade] [Tool sources] [Travel kits] [Hazet spare tire tool kits] [Links]

Please note: other than tools on the "Wanted and For Sale/Trade" page, these tools are not for sale.
---
Hazet 450 logo comparison
There were subtle changes over the years in how "Hazet 450" was marked on the wrenches. Here are written descriptions, and a picture showing these 5 varieties (in the same order as the descriptions):
1950-56: letters "azet" underlined with an elongated L shape.
1957-59?: letters "azet" underlined by straight line.
1959?-60's?: same as 1957-59? but more space in the "frame" to either side of "Hazet 450".
mid 1960's and later: all letters in name "HAZET" are capitals, underlined with straight line (never in 356 kit).
1950's: letters "azet" lower case, underlined with elongated "U" shape (never in 356 kit).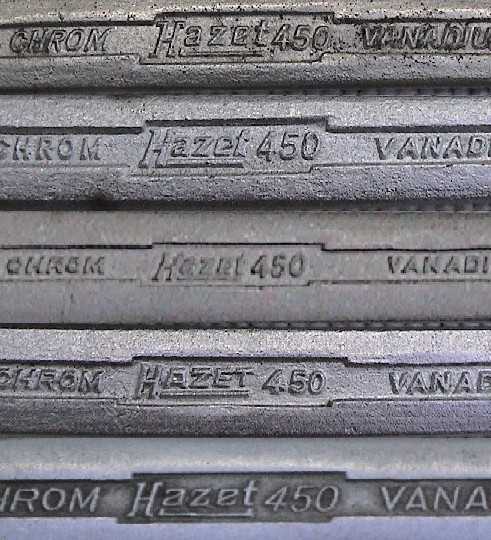 Other changes over the years:
-how the sizes were marked - either stamped or molded (see 8x9 description on previous page)
-polished ends - mid to late 1960's?
-slightly polished or "buffed" finish all over the wrench
I don't have enough samples to determine when these changes occurred, but since they were after their use in 356 tool kits, it is not of great interest to me.
---
All site content, including images, tables, and text is © 2013 by Eric Cherneff. Duplication in any form is prohibited without express permission. All rights reserved.
WANTED: photographs of tool kits and individual tools, and information about them if you can expand or correct the descriptions I have provided on these pages. Contact me: eric@356a.com Also: if you have old tools you want to sell, please tell me. I may be interested.
Please visit my Porsche 356 serial number and engine reference site: www.356a.com
---